With the official label of the Denomination of Origin
It's official, the first bottles of white wine with DO Ribera del Duero are already on the market. And it has been the maker of Peñafiel (Valladolid) Bodegas Zifar the first to do so with the official counter label with a wine made with the Albillo Mayor variety. And there are about thirty whites that will be marketed in the coming weeks, being the protagonists of one of the greatest milestones of the DO Ribera del Duero in its 37 years of history, the introduction of white wine.
Currently, and according to what is included in the new specifications of the PDO that entered into force in November 2019, the wineries are requesting the Regulatory Council the certification that authorizes them to certify their products. According to the new regulations, from now on it will be the wineries that are responsible for the tasks of self-control and qualification of their wines, a task that was previously performed directly by the Regulatory Council, who will nonetheless audit the work of the wineries.
The new Ribera del Duero counter labels

With the arrival of white wines from Ribera del Duero, the allocation of counter labels by types of DO wines has been modified, simplifying in a simpler and more direct way for consumers. Thus, the exclusive rosé disappears and everyone will be identified as to the type and time of preparation.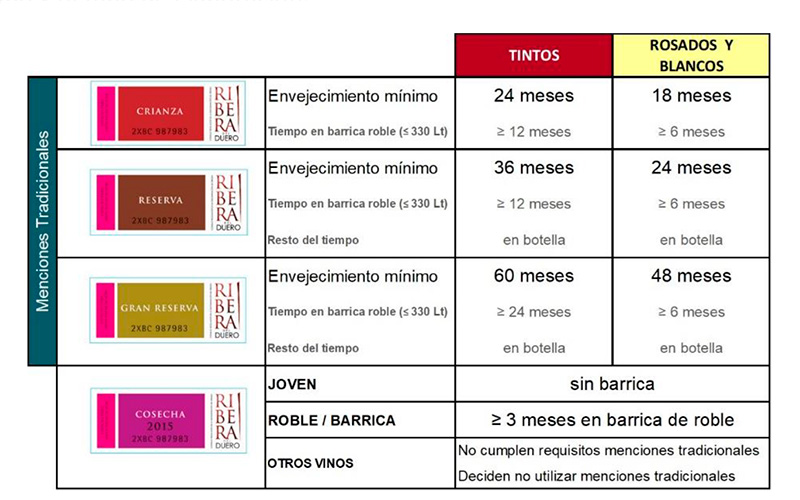 From now on, white and rosé wines with an aging of 18 months, of which at least 6 have remained in the barrel, can hold the Crianza counter label. For their part, those white and pink with an aging of 24 months between barrel and bottle, of which at least 6 have been in barrel, may hold the Reserve counter label. With regard to the white and pink Gran Reserva, 48 months of aging between barrel and bottle must have passed, of which at least 6 will have aged in barrel. Finally, those who are made without aging, stay up to three months in oak barrels and those who decide not to use traditional mentions will carry the generic counter label.